Commercial Fleet Tracking Solution
Advanced all-in-one camera and GPS system for commercial fleet vehicles.
Fleetcam's vehicle camera systems also provide GPS tracking, offering a progressive replacement to traditional telematics trackers in fleet vehicles.
Get Fleetcam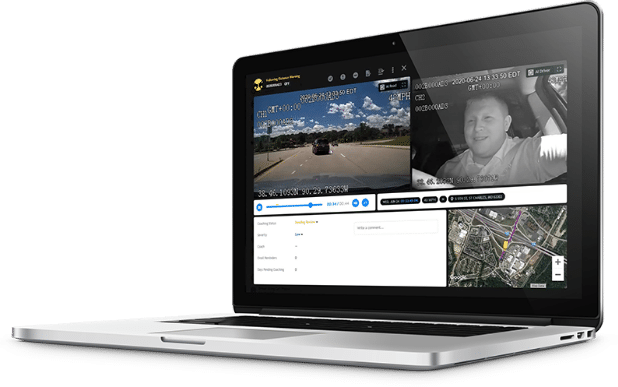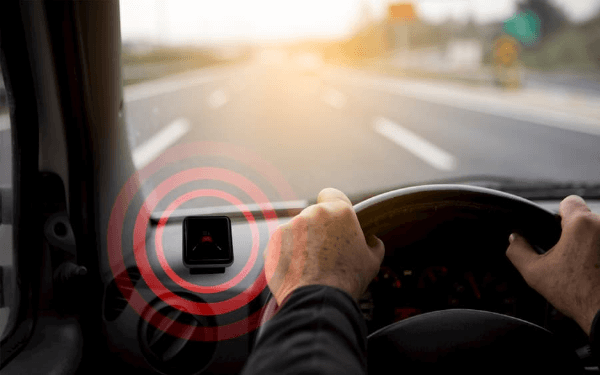 Upgrade to Video Telematics
Replace your standard telematics system with the best fleet camera solution. If you're looking to upgrade from a 3G service or standard telematics solutions, Fleetcam provides an all-in-one, integrated video telematics system for fleet management, driver safety, and incident reporting.
Combine Data & Tracking
In addition to tracking vehicle location and true movements, Fleetcam also allows you to track driver behavior and significant events with GPS updates every 60 seconds or less. Data insights from our novel fleet tracking software plus vehicle camera system gives fleets the ability to increase driver satisfaction, reduce liability, and improve driver safety and reliability.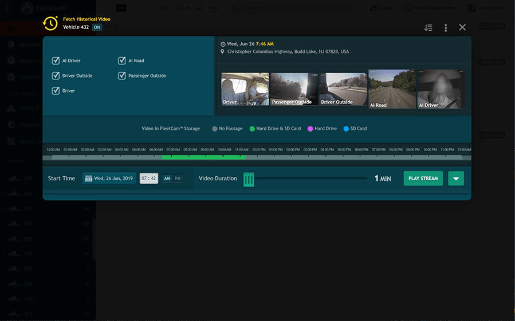 Get the fleet tracking solution you need to streamline fleet management.
With our flexible vehicle camera system that includes a wide range of reports, fleet tracking software capabilities, alerts, and other features, Fleetcam fits the exact needs of commercial fleets.
Keep scrolling to learn more

View both the drivers and the road around them with live or historical streaming views.
Snapshot photos previewing each camera are captured every 5 minutes with their exact location and time. These images are displayed along the vehicle's route line (breadcrumb trail) to provide an extra level insight into the vehicle's activity.
Track your vehicles' true movement, location, driver behavior, and significant events with GPS updates every 60 seconds or less.
Navigate drivers on safe routes based on the vehicle's weight, length, width, height, and hazardous materials that may be on board.
See a detailed simulation of the road ahead when approaching turns, exits, and interchanges on a route. Voice-guided turn-by-turn directions with spoken street names are provided from origin to destination.
FleetCam® uses AI and sensors to detect unsafe driver behavior. The DMS (driver monitoring system) continuously monitors the driver, while the ADAS (advanced driver assistance system) continuously monitors the road ahead.

Improve Your Fleet With A Commercial Fleet Tracking Solution
By helping you better understand your drivers and vehicle in the field, commercial car or truck fleet tracking can:
Fleetcam® takes the place of your traditional telematics tracker and separate vehicle camera system by combining them into one. Less setup and less maintenance with more fleet tracking and more profits.
Optimized route guidance and wasteful driver behavior corrections enable reductions in fleet operating costs.
Shorten dispatch response times by quickly locating the most convenient vehicles in your fleet.
In-cab feedback stops dangerous driving behavior as it occurs and conditions drivers to be more cautious while on the road.
Ready to upgrade your overall
telematics system?
Get Fleetcam